[vc_row][vc_column][vc_wp_text]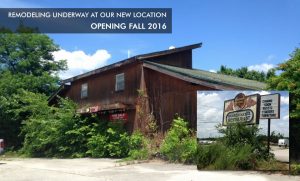 Earlier this summer we purchased what many would say is a local landmark;  the Wooden Nickel Restaurant property located at 8847 E. State Highway 76 Branson West, Missouri.  If you've ever traveled along Highway 76 from Branson to Branson West, you've past it.
Although the Wooden Nickel has been gone for well over a decade, the building remained on the market waiting for just the right buyer.  We really needed more showroom and warehouse space, so purchasing the old restaurant building made perfect since.
After closing on the property, we held a public auction to sell off all of the unwanted items to prepare for a massive remodel.  When the rebuild is complete, it will give use nearly double the square footage as our current location in the Kimberling Shopping Center in Kimberling City, Missouri.
If everything goes as planned, we should be moved in by late fall of 2016.  In the meantime, be sure to stop by our current location and check out all of the new items that continue to come in to our showroom.  We look forward to seeing you soon![/vc_wp_text][/vc_column][/vc_row]